Table of Contents
Imerso: Merging As Built Data with BIM Models for Automated Quality Checks
Other Construction Management Software Featured by BIM Corner
Imerso: Merging As Built Data with BIM Models for Automated Quality Checks
Imerso is an essential tool for companies committed to enhancing work productivity and preventing errors and delays in their construction projects. Our platform automates construction site supervision and quality inspections with one simple workflow. Construction teams use it to cut project risks and delay costs with real-time monitoring of the jobsite.

The Easiest 3D Laser Scanning Workflow
We designed a free add-on to the platform, Imerso Capture, a mobile app that vastly simplifies the 3D scanning process and imports all data directly into the platform. This makes 3D scanning much faster and easier. With a press of a button, teams capture As Built documentation at every project stage and completely independently from expert surveyor resources of expensive third-parties.
See how Mathias, an intern at general contractor NCC conducts 3D Laser Scanning at his jobsite with Imerso:




Intuitive BIM vs As Built Reality Reports
With the Imerso's reports, you access crucial status insights and spot hidden work deviations from anywhere right from your web browser.
"I conducted the scans on-site in Norway before travelling to Italy and

managed the project remotely

from there. Imerso allowed me to analyse our scan data, identify discrepancies, and collaborate with the project team to address issues. This flexibility was instrumental."



Håkon Grande, BIM manager at Lag Enterpenør.




Push problematic issues directly to your CDE with all the details for a fast resolution.
See the largest general contractor in Norway, AF Gruppen using 3D scanning through the Imerso workflow:
Avoiding Problems Before They Happen
With Imerso's BIM-Clash feature, you ensure that the planned models still fit into the current onsite reality and review any upcoming clashes months in advance.
"Besides the measurable benefits from a risk perspective, we see that having a broad view on quality assurance also has a

positive effect on the amount of rework

, and therefore creating a more motivating working environment."

Anders Kaas, Project Leader at NHN.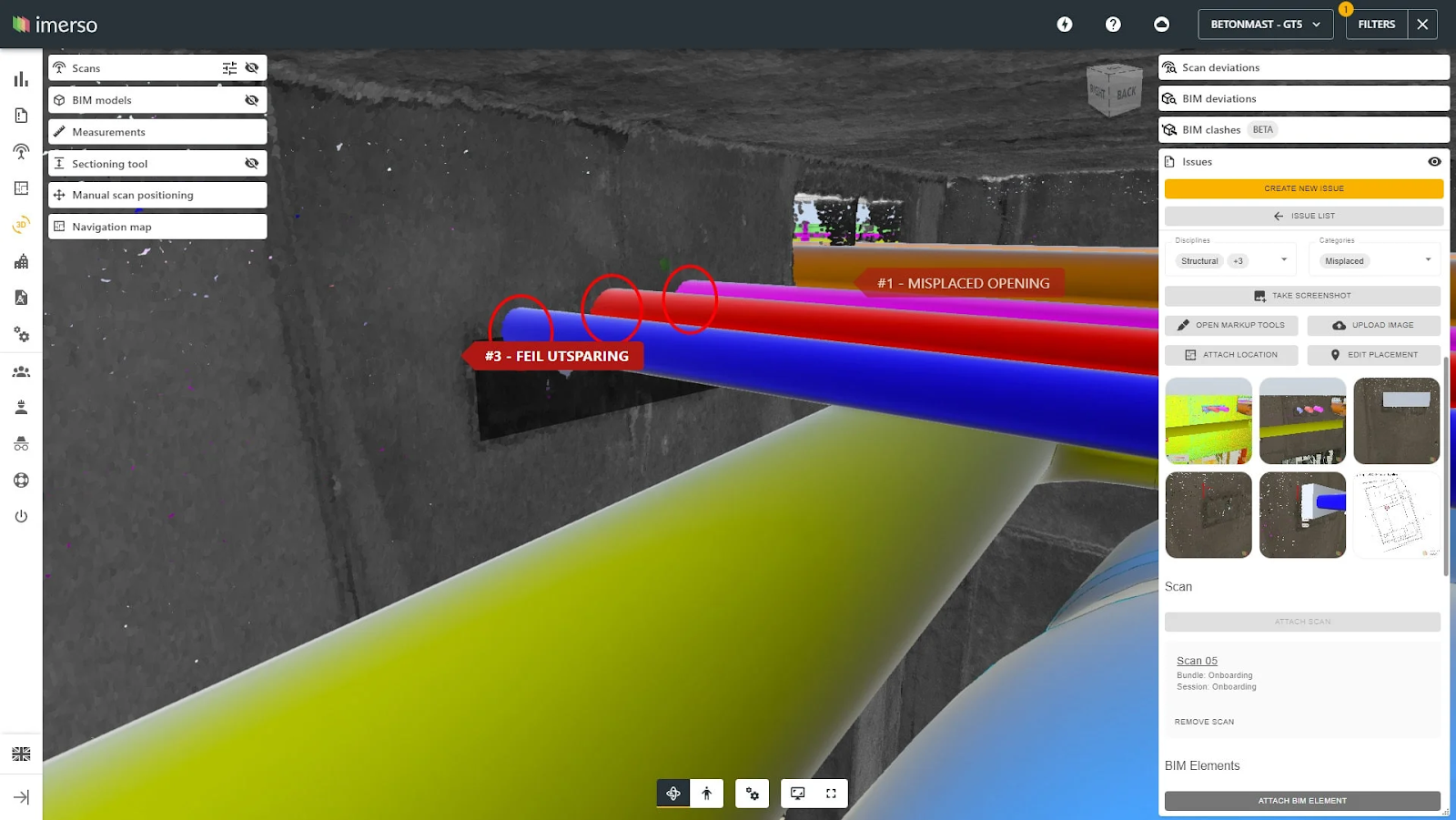 Imerso screenshot provided by the Betonmast team.
Seamless Updates of BIM to As Built
Not all onsite deviations require rework. Imerso keeps your BIM updated to the onsite reality by automatically placing deviated objects to their onsite location within a click. Use Imerso's BIM-Fix tool to save your teams countless hours of manual modelling work, and accelerate accurate As Built deliverables at handover.
Analyse Surfaces with DIN18202 Compliant Grids
Find out-of-tolerance depressions and elevations in any surface and concrete slab at the press of a button. Imerso's Surface Analysis tool features the DIN 18202 mode that allows you to run compliant surface grids with automatic highlights of out-of-tolerance areas – delivering in seconds what would take hours of expert work onsite.
Here's what our clients report having achieved with Imerso:
Learn about 7 powerful ways of using Imerso to supercharge your construction projects.


Other Construction Management Software Featured by BIM Corner
BIM Corner's list of the top AI tools for AEC also featured notable contenders such as Aurivus, ArkDesign, Autodesk Forma (formerly Spacemaker.ai), Blackshark, SmartBarrel. You can learn more about these tools from the original article published in BIM Corner.
Conclusion
AI tools aren't just enhancing projects but also reshaping the way we approach construction, design, and management. As we venture further into this AI-driven era, the possibilities for AEC are limitless, promising even greater advancements and efficiencies.

Stay tuned to not miss our latest news!