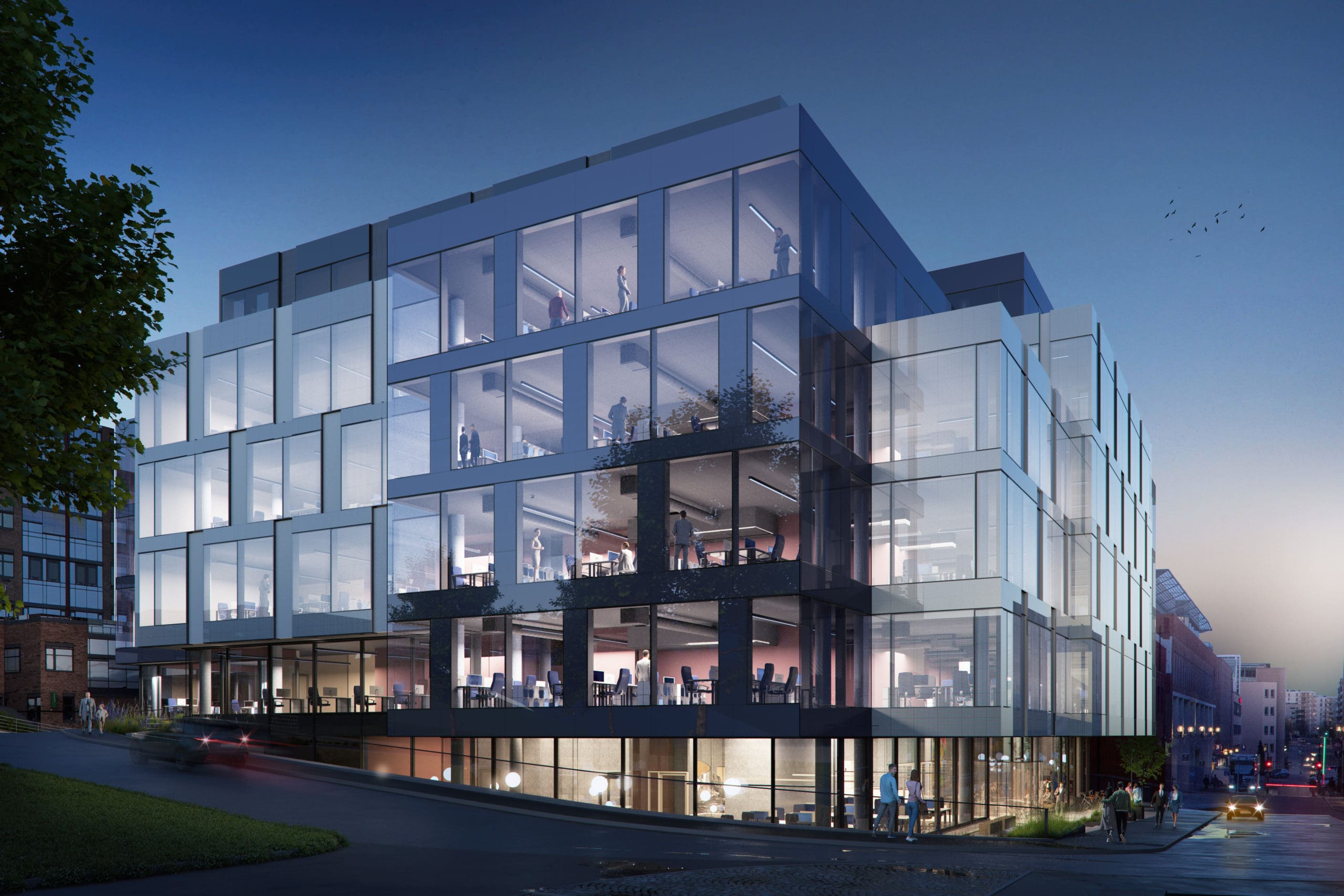 Commercial construction
Betonmast Saves €1 Million in Sustainable Construction Project
Sustainability at the Heart of the GT5 Construction
Office spaces have come a long way since the traditional cubicle-style offices of the past. The current focus has shifted towards functional spaces that foster creativity, collaboration, and innovation. A great example of this is Gullhaug Torg 5 (GT5), an impressive new office building completed in 2022 by Betonmast in Nydalen, Oslo. With approximately 13,500 m2 of space spread across six floors, GT5 is a flexible building designed to house different types of tenants.
Challenges in sustainable construction projects
The building's standout feature is its impressive atrium, and adaptable common areas, but GT5 isn't just any regular office building. The project was even purposely designed not to have space for car parking, and rather focus on better arrangements for cyclists, such as spacious bicycle parking, suitable facilities for changing rooms, and bicycle washing.
In pursuit of sustainable construction ambitions, the project had a strong environmental focus with the goal of achieving a BREEAM NOR Excellent certification. To achieve this, the project was designed with the goal to reduce 50% emissions compared to reference buildings, incorporating the use of 50% reused or reusable materials. As part of this construction sustainability effort, the project implemented a blue-green roof with solar panels and a local stormwater management system.
New Buildings Require New Construction Technologies
The project was planned with a limit on the waste generation of 25 kg per m2 maximum during the construction period, through the use of modern methods and technologies.
This way the team was able to create detailed and precise construction drawings, identify areas to further improve efficiency and sustainability, and closely monitor the work execution with digital construction tools.
Constructing an office building that is sustainable, aesthetically pleasing, and delivered on a tight schedule was a challenging task. Betonmast was tasked with marrying the project's sustainability goals with the client's desire for a transparent glass building.
The project demanded complicated and technically-advanced solutions, with complex installations placing high demands on work execution. In particular, structural openings and recesses were highlighted as critical components to be built in accordance with the project's BIM specifications. This is in order to avoid any errors leading to rapid escalations of costs from delays and replanning.
Challenges in construction quality control
In a typical construction project, up to 95% of all built elements aren't fully checked. According to Betonmast, such overlooked errors can increase project costs by on average €15.000 per issue.
With over 100 people working onsite at the same time during the COVID-19 pandemic, the teams found it critical to closely track As Built progress through frequent construction quality control inspections, and avoiding costly surprises.
Betonmast needed a construction software solution that required little presence on the construction site and no work interruptions, while providing full oversight of the construction status with millimetre-precise control.


Automatic As Built Inspections with Laser Scanning
Betonmast had used the Imerso for construction quality control in previous projects, where the combination of easy laser-scanning routines and automated As Built inspections had proven to be a game-changer.
Matilde R. Belsvik, Project Leader at GT5, and Betonmast's Head of Innovation Magnus Bjørndal Jacobsen implemented Imerso's scan inspections as part of the project's routine quality control processes.
Straightforward and Easy to Start
In exactly 3 weeks, the process was presented to the team and rolled out into practice. The team chose to use a BLK360 Laser scanner from Leica Geosystems, and implemented a weekly routine to select key areas at the site to capture with scans and inspect the data in Imerso.
"We wanted it to be as low a threshold as possible so that it can be manageable by several people", says Matilde.
Besides reporting the work status and finding deviations, Imerso offers functionality to automatically update the BIM models to the As Built reality onsite.
You're actually sitting on a digital twin
"You get a good routine with scanning, detecting deviations, and discussing whether these should be corrected in production or design. If you choose to correct it in the design, you can send accurate information to the responsible teams to correct it continuously", says Magnus. "Then you don't have to sit with a collection pot at the end of the project — You're actually sitting on a digital twin".
A great benefit of this practice is that the digital twin keeps the BIM plans up-to-date with any site changes, vastly reducing the amount of manual modeling and efforts in final BIM deliverables at handover.


Cutting Costs and Delays with Digital Construction
Over 60 issues were detected by Imerso at GT5, saving the project over €1 million through the prevention of costly errors and construction delays.
The team also benefited from improved work efficiency. Through seamless integration with other construction software tools, Imerso data was easily shared across teams. This helped increase coordination and accelerate issue resolution, cutting site visits, and helping the teams quickly decide whether issues should be reworked onsite or updated in BIM to As Built status.
Matilde R. Belsvik recalls examples of misplaced MEP drain pipes that the team wouldn't have detected without Imerso, which would lead to costly clashes and delays in upcoming technical installations.
"You set the tolerance yourself and, for example, look for everything that is marked red. Even if we don't find many deviations, it's important that we can verify that everything was built correctly", says Matilde.
By also reporting all objects that were built correctly, the platform lets the project move on without surprises and worries, and with the security that subcontractors delivered their work as agreed.
Scaling Imerso Deployments at Betonmast
From experience at GT5, the team aims to continue spreading this site monitoring technology on more projects. Over 35 projects leverage Imerso to strengthen construction quality control.
"We can keep the models accurate to what is built, - says Magnus. - We can hand over building documentation continuously instead of at the very end. That saves us a lot of time."
"It's very exciting to gain experience from GT5. The aim is to use the technology on more projects over time. We believe it's the key to achieving zero errors and increased profitability", says General Manager Ole-Bjørn Bakke.
"There are many advantages to using 3D scanning with Imerso. It makes the job significantly easier for our partners, who can open the 3D model, see the data, and get an overview of the project status. It provides better construction quality assurance, and we know that it will be built according to the drawings", explains Project Manager Per-Kristian Overvik.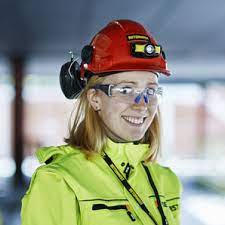 Matilde R. Belsvik, Project Leader
Betonmast Oslo
"The biggest advantage we get with Imerso is the security of knowing that we're building correctly.
Deviations are taken up continuously with the various teams, and we simultaneously consider whether errors should be corrected in production or in design.
The consequences would be greater if we didn't take action immediately."
Subscribe to stay updated with the latest news in digital construction.