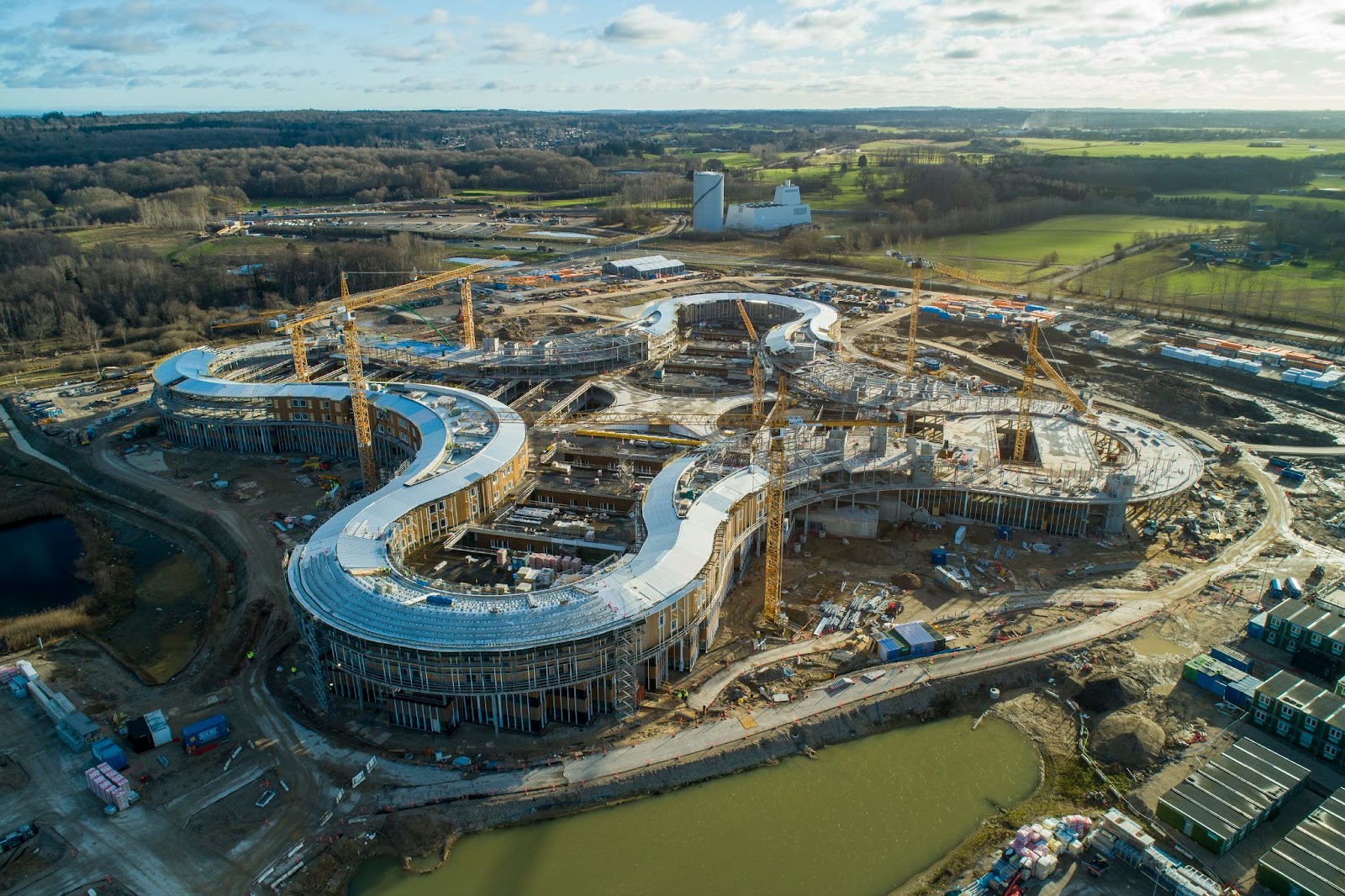 hospital construction
NHN Boosts Productivity Worth 2% of its Hospital Construction Budget
Iconic Hospital Construction Project Embracing Modern Technology
The Nyt Hospital Nordsjælland (NHN) is an ongoing hospital construction project for the citizens of North Zealand, Denmark. The NHN hospital is owned by the Capital Region of Denmark, which is responsible for healthcare services, regional development, and public transport in the area. Covering 123,000 square meters, this is one of the largest construction sites in the country.

The design by renowned architects Herzog & de Meuron marries two seemingly contradictory goals, the desire for a large central garden and the necessity for short internal connections. The result is an organic cross shape that permits the interior garden to become a flowing space.
NCC, a construction and civil engineering company, is the main contractor for the building of the NHN project. The construction started in December 2019 and planned for completion at the end of 2026.

With the ambition to counterbalance many external challenges, the project is betting on new-generation construction technologies to help drive work productivity and eliminate unnecessary costs.


The Need For AI in Hospital Construction Site Monitoring
The construction sector is notorious for its lagging rates of work productivity and a deep reliance on outdated and inefficient practices.

As one of the world's least digitised sectors, there is growing pressure for a modernisation of the construction industry – and leading players are taking notice, already exploring novel ways of working through digital workflows. Here are 7 Powerful Ways of Using Imerso to Supercharge Your Construction Projects.
1. Keeping As Built Documentation Up-to-Date
One of the major challenges in every construction project is the lack of accurate and current documentation of what has actually been built so far (As Built documentation). In addition, this must be paired with a systematic way of tracking work quality and progress, able to efficiently identify and resolve issues on a frequent routine.


2. Automating Feedback Loops on the Hospital Construction Site
For years, the industry standard for quality control and progress tracking remains on using manual spot-check inspections with checklists and photos – slow, inaccurate and subjective, while only covering a small portion of the total work.
"Site supervision is mostly based on trade-specific topics with a narrow focus on predefined sample areas, traditionally based on printed drawings and tape ruler measurements. On a large hospital project like ours, this task is very time-consuming, with the high risk of critical items possibly being overlooked." - says NHN Project Leader Anders Kaas.



3. Boosting Construction Team Collaboration
Without proper documentation and quality tracking, it can be extremely difficult to ensure that the construction follows the intended specifications and compliance measures. This typically leads to major challenges in keeping multiple teams coordinated and on the same page, while leaving problematic deviations undetected until it's too late.


4. Cutting Down Construction Costs
Usually, the longer the above challenges exist, the more costly mistakes and delays occur. Besides the costs, other common negative consequences are: resource waste, partner disputes, and safety hazards, which negative impact on the project escalates rapidly.

The Capital Region of Denmark, which owns the NHN project and is responsible for project management, made a thorough market research and has turned to the Norwegian tech startup Imerso to help resolve these challenges.


Implementing Imerso on the Construction Site and Setting Expectations
In October 2021, the Capital Region of Denmark purchased a 3D laser scanner to use with Imerso. The initial business case expected a target cost-savings of 4x times the total price of the software and scanning equipment used during the project.

These savings were expected to stem from three main target areas:
a reduction in construction claims for work errors,
faster and better site supervision efforts, and
more efficient process for As Built documentation.
The construction team implemented the routine in several processes and was able to rapidly demonstrate the value of this new source of data – and the requests for more scanning kept growing.
"The fact that Imerso enables any of us to 3D scan an area in the morning and after lunch, have a full analysis available to review, is really improving the way we approach quality or interface issues. Using 3D scanning on a daily basis like this was not possible before". - says Anders.

Results From Using Imerso in the NHN Hospital Construction Site
Unprecedented Efficiency in Hospital Construction
One immediate improvement was seen in a higher efficiency to monitor the site status. The process to inspect numerous elements onsite, document any deviation accurately and make this information available to other project members drastically shortened.



More in 65 days, than an entire team could do in one year.


By comparing the speed of the new approach to traditional methods, it was found that Imerso's method is over 15 times more efficient at monitoring the site status. Imerso uses less than 10% of the resources required by traditional methods and delivers much higher quality information. It would take an entire team more than a year using traditional inspection methods to achieve the same number of verifications of onsite installations that Anders and a couple of interns achieved in 65 days.
"Besides the measurable benefits from a risk perspective, we see that having a broad view on quality assurance also has a positive effect on the amount of rework, and therefore creating a more motivating working environment", says Anders.



Over 5 Mn EUR saved from avoided rework and increased worker productivity.



Catching Hospital Construction Errors Before They Happen
After 16 months, Imerso had already prevented 440 issues of mixed severity, through their early detection, giving the project teams full context and details for a swift resolution before the problems escalate.
Construction site Detection: Missing opening for large HVAC components
Cost savings per detection range wildly depending on the type of error, the disciplines involved, and the detection timing.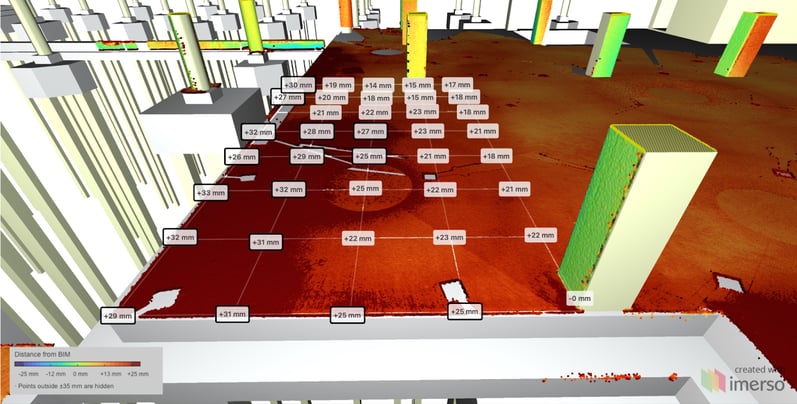 Detection: Edge of floor slab elevated out-of-tolerance
From analysing a wide sample of cases, the NHN team estimates a conservative cost-saving average of €14.000 per avoided issue.
"Instead of using the tool as a punishment tool for the contractor, we've set up a collaborative organisation with the contractors and consultants, where possible issues are discussed and further qualified in the site office, - says Anders. - This is done in a controlled environment, several months before the issue potentially results in a negative impact on-site, often affecting budget or time schedule."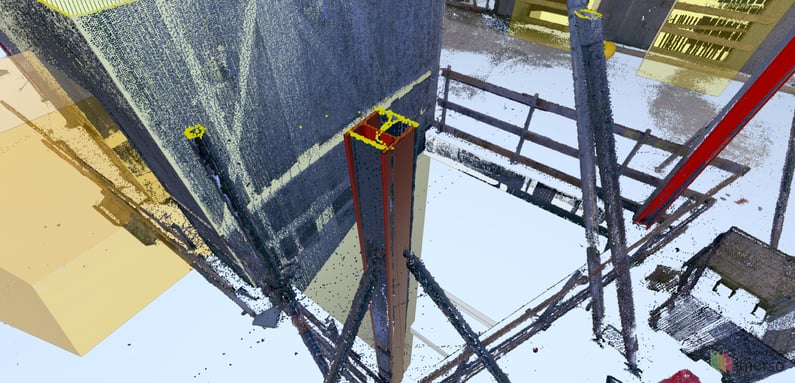 Detection: Steel column installed on-site with a 90º rotation
In little over one year of using Imerso, and with still years to reach project completion, the NHN team estimates savings of over € 5.4 million, equivalent to 2% of the total construction budget.
These are costs that the project would have incurred in the form of construction rework, delays, waste, and lower worker productivity from using traditional methods.

53 times faster and more accurate than traditional methods, at less than 2% of the resources.


Accurate As Built Documentation at Every Stage of The Hospital Construction Project
By making 3D scanning as simple as taking a photo, the platform enables the NHN teams to capture every stage of the project with high-accuracy data, without the need for complicated workflows or costly third-party services.

NHN estimates that Imerso's approach is 53 times faster at creating As Built documentation, with orders of magnitude in better detail and quality, using less than 2% of the resources that traditional approaches need.

With more recent scanners like the new BLK360 G2 scanner from Leica Geosystems – the documentation speed will further improve by five times.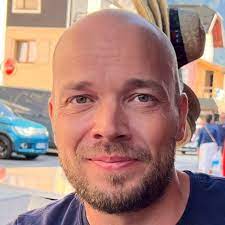 Anders Kaas, Project Leader
NHN
"Deciding to implement Imerso's 3D scanning process during the ongoing construction phase, did challenge the traditional way of working and brought initial skepticism.
But after seeing the results and benefits, we now get weekly requests from all parties for new areas to explore with the technology.

On future projects, we have the opportunity to integrate technology like Imerso in the planning and contractual phase of the project, so even more value can be achieved."
Subscribe to stay updated with the latest news in digital construction.