Table of Contents
Why Lean Construction Leaders Are Combining Solibri with Imerso
Lean Construction Planning with Solibri
Why As Built Data is Key to Lean Construction
Gaining Control with Automated As Built Checks
Resolving Deviations: Onsite Rework or BIM Updates?


Killer Combo for Lean Construction: Imerso and Solibri Together
Why Lean Construction Leaders Are Combining Solibri with Imerso
Solibri is a powerful tool for planning BIM and ensuring model quality, while Imerso's AI features are perfect for As Built status monitoring throughout the construction phase.

Leveraging the strengths of both tools allows you bridge the gap between the digital and physical worlds, and enable seamless integration of virtual design with the on-site reality.

This opens a completely new level of efficiency and accuracy for your teams and projects.


Lean Construction Planning with Solibri
Let's start with your BIM plans and make them ready for construction with Solibri.

This tool analyses the health of your BIM models and provides logic-based rules to determine potential issues, including typical clash detection and quality assurance analysis.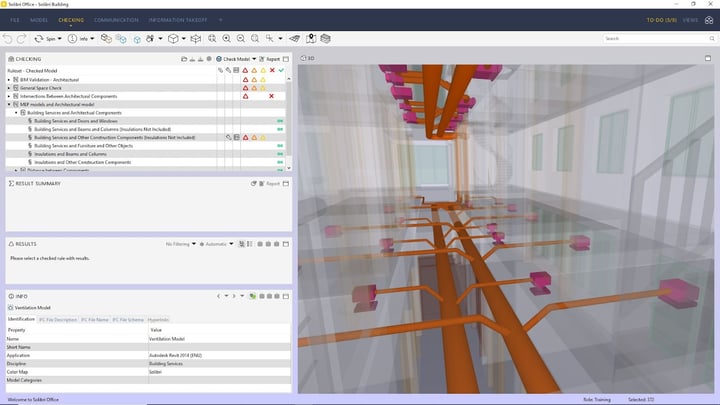 Solibri runs comprehensive rule checks on your project BIM models.
While many tools provide simple BIM clash detection alerts (meaning, two models colliding with each other trying to occupy the same space), Solibri goes way above and beyond, allowing you to apply a variety of rules. You can choose among multiple, including very popular safety regulations and fire-stopper inspections.

Solibri lets you quickly identify potential design problems and find optimal changes before construction begins. This ensures a smoother construction process and reduces the risk of expensive rework or delays.

You can also get calculations for quantity takeoff based on the models, allowing customers to properly detail their building plans.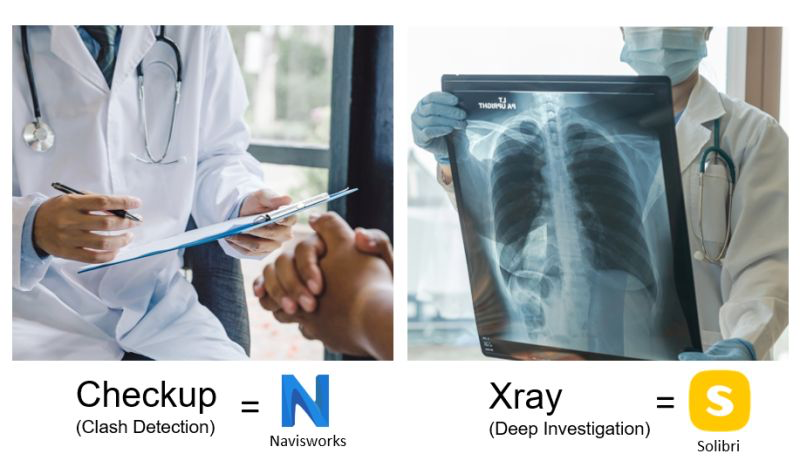 Many tools can do superficial model checkups, but Solibri stands alone in BIM coordination (credit to Joe Magas from FusionTek).
Throughout the production phase, the platform helps users validate and incorporate design updates into the original building plans. This includes change-orders, new technical products that may haven't been possible to fully specify in the early planning stages, or uncovering consequences of different design alternatives for resolving engineering issues.

So, now that we've nailed BIM plans, let's make sure they come to reality.


Why As Built Data is Key to Lean Construction
While incredibly useful and popular, Solibri has a blind spot: it only analyses sets of BIM models.

All its superpowers for validating models depend on accurate representation of what's actually built on site. This is typically based on checklists and traditional reports from the site teams.

For example, testing a design update for an alternative MEP/HVAC installation against the original models of the structural elements may deliver inaccurate results, if the onsite structure built onsite has significant deviations from the initial model.

Likewise, performing quantity takeoffs from the BIM models without accurate information on the built status leads to inaccurate estimates.

Keeping models updated to work progress and onsite changes is still a heavily manual and slow task: both subject to site supervision and BIM Modelling resources.

There is a lack of efficient methods to verify that the models of initial installations are an accurate As Built representation of the field status. Without this information, analysis of models in Solibri becomes less accurate and relevant as the construction moves forward, and reality continues separating from the model specifications.

But what if that weren't the case?

What if there was a method to closely track the As Built status, highlight deviations from the model specifications, and keep the models updated with the onsite ground-truth?


Gaining Control with Automated As Built Checks
Let's solve the challenge of tracking As Built status on a routine basis.

Imerso does this with more accuracy and 15x less resources than manual and visual control methods. Its AI validates the latest onsite conditions against the BIM specifications allowing you to receive your reports within minutes.

Breaking news: Iconic Hospital Construction Site in Denmark Uses Imerso AI to Boost Productivity Worth 2% of its Construction Budget>>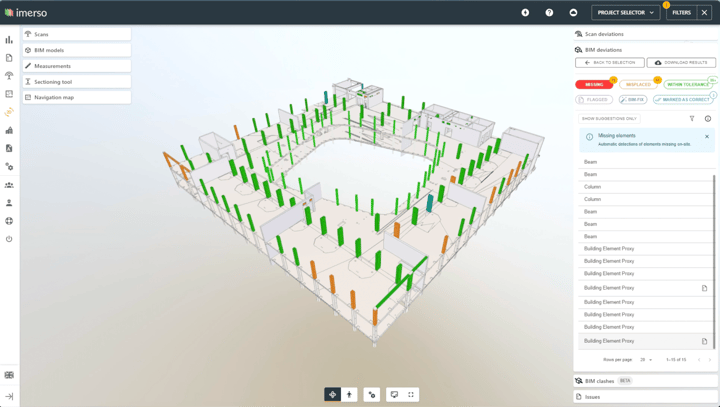 The Imerso platform delivers reports on the As Built status of your project in minutes.
Anyone from your team can capture As Built status now, fast and accurately. Imerso makes it easy with a user-friendly 3D scanning routine that anyone can learn in a matter of minutes, while ensuring that every step of the project is captured in meticulous detail, down to millimetre.


You and your project partners can access the latest onsite status remotely from anywhere in the world, specify any BIM models to validate, and uncover any hidden deviations or non-compliant works. This provides a tremendous advantage to teams seeking Lean construction workflows, with a boost in team productivity and information sharing.
You can see Imerso in action here>>.

Resolving Deviations: Onsite Rework or BIM Updates?
Onsite rework may be required for correcting any detected issues, and Imerso helps you do it easier and cheaper while the responsible teams are still onsite. This provides a strong advantage to construction managers looking to closely track work quality and progress in a routine Lean workflow.

Conversely, many times the change is acceptable or causes little impact to the project, and should rather be reflected in the BIM models through a design update. Imerso's one click BIM-Fix function quickly gives you an IFC export with deviated objects updated to their real As Built position onsite.

Imerso's BIM-Fix function automatically moves your BIM objects to their real As Built.
It's not always easy to decide with approach is best without further investigation:
Does the new situation violate any building codes or standards, unrelated to a geometric collision?
Would the costs of onsite rework be smaller than adjusting the plans to the new change?
What is the best engineering solution when rerouting the other affected disciplines?
Answering these questions is where Solibri shines, if only you could give it the As Built information captured in Imerso.

This is what makes the combination of the two products a real superpower.


Killer Combo for Lean Construction: Imerso and Solibri Together
Customers of Solibri and Imerso are realising the powerful synergies between the two products, and creating new workflows to leverage them together in combination.
Lean Construction: Tracking and Solving Issues on the Go

In this example, a Construction Manager, let's call him Alex, detected a misplaced prefabricated stair structure using Imerso, which had been built onsite with a vertical elevation of 4cm beyond its specified tolerance. The issue was documented and the .BCF report shared with the CDE, tagging the relevant teams.

Alex inspected the case further. Using Imerso, he looked for any collisions with future installations, created by the current placement of the staircase, and no collisions were found. So far, so good.

Alex dug further still. He toggled Imerso's BIM-Fix tool to generate a temporary IFC file of the current placement of the staircase object. This IFC file was loaded to Solibri to run the rulesets and investigate the case deeper.

A misplaced object flagged by Imerso and updated to its current As Built position (left). Uploading the As Built status from Imerso into Solibri uncovered severe compliance violations: resolving this case will require onsite rework. Dozens of such inspections can be accomplished in a matter of minutes, for a drastic acceleration in issue-resolution.
Bringing this information into Solibri, Alex found several ruleset violations created by the current onsite placement of the staircase object, including minimal vertical height regulations, pointing to a deeper problem likely to require onsite rework.

Within an hour, Alex is able to run the process above across a wide number of detected issues that could take several days and dedicated resources to investigate. Doing this promptly allows vastly enriching their respective information in the CDE to help the affected teams reach a speedy resolution.

No time wasted asking and waiting for additional information, no undue costs and delays to the trade flow, no negative impact on the project from issues that could otherwise escalate rapidly.
Accurate Quantity Takeoffs at Planned Milestones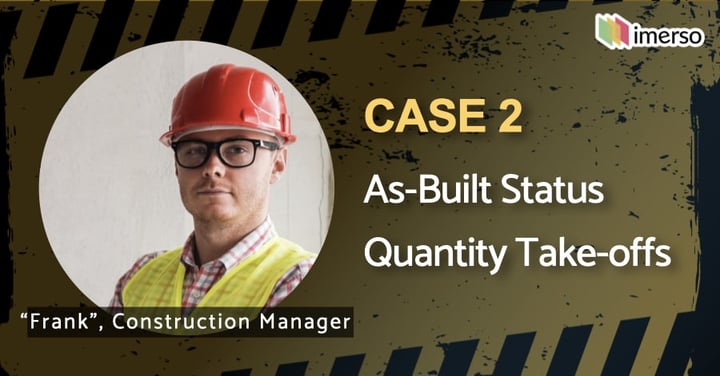 Another Construction Manager (Frank this time) used the combo of Imerso and Solibri in a different way: confirming quantity takeoffs based on the current status of completed works.

For this, Frank's team used Imerso to frequently export the latest work status as an IFC file, with each object labelled with the As Built status as one of its properties.

All objects marked green have so far been labelled by Imerso as built onsite within tolerance. Likewise, objects in orange represent those built onsite, but deviated from tolerance (misplacements, rotations or tilts, wrong shape, etc) and red objects couldn't yet been found onsite (eg. potential delays) – each including detailed information such as the tolerance value used in the inspection and the IFC model version used.

This enabled Frank and his team to upload IFC files to Solibri and analyse As Built further by applying alternative tolerance parameters and rulesets or doing quantity takeoffs.
A BIM model enriched with the As Built status can be exported from Imerso and loaded into Solibri for further analysis, such as quantity takeoffs.


Empowering Solibri with data about the latest onsite conditions allows for more accurate quantity estimates.
These can be used to:
verify work progress against planned VDC milestones,

approve partial payments earlier towards subcontractor teams, and

verify stocks of materials or adjust supply chain forecasts.
Ensuring Fire-Stopping Compliance

Solibri recently released new powerful features to ensure compliance with Fire Stopping of Service Penetrations in compartmentation walls and floors. These allow users to verify their BIM models meet the regulatory standards and ensure fire resistance is upheld in the event of a fire, allowing the safe evacuation of the buildings' occupants.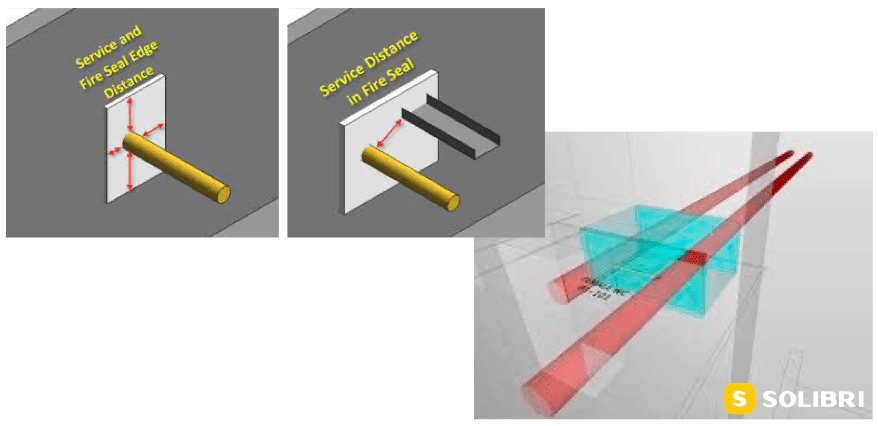 New rulesets in Solibri for analysing compliance of fire-stopping elements.
Construction managers, like Jan, are leveraging the comprehensive set of rules to initially identify all service penetrations in compartmentation walls and floors. This includes spatial requirements of position and distances between technical installations, the services allowed in the fire seal, distances between the technical equipment and the apertures in the structural opening, among other checks.

These can now be controlled in the BIM model and ensure all planned layouts meet the safety requirements.

Combining this information with the As Built data captured in Imerso, Jan is able to rapidly verify if the specifications of the BIM models are actually being carried out at the site.

This resolves a major issue of false-confidence, when the models have passed the test, but the onsite installations were wrongly built – creating a major safety hazard that everyone overlooked.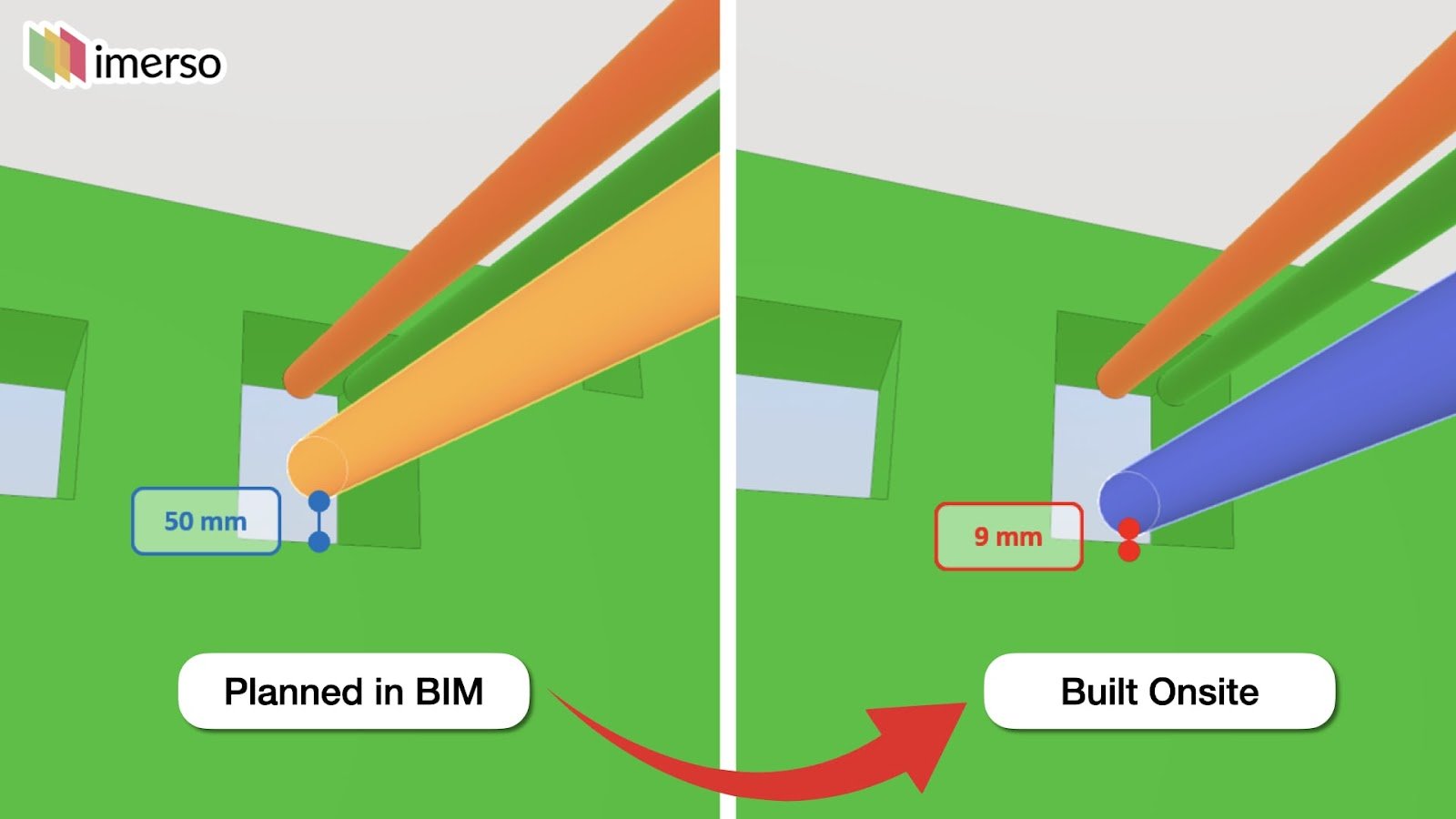 Imerso shows that objects planned in compliance with fire-stopping rulesets were actually built differently onsite, in violation of the fire-safety standard. Without the As Built information provided by Imerso, project managers would have no chance of detecting this based on the BIM models alone.
In the image above, PMs like Jan, can see that while the model specifications (left-side) meet the Solibri fire-stopping compliance tests, the onsite installations were in fact misplaced from the design intent and violate the safety standards.

The Imerso-Solibri combo provides an efficient and accurate method of verifying whether the real onsite installations violate the safety rulesets that designers worked hard to incorporate into the planning.

Most importantly, these verifications can now be done faster, routinely, and fully independent of manual reports from the different teams – covering the entire site at 15x the efficiency of traditional site supervision approaches.

This provides a much higher degree of confidence for everyone involved, enabling users to eliminate costly surprises, and rectifying any problems early.

Conclusion
With such accurate insight into the As Built reality out there in the field, there is no doubt that the Gap between the models and actual ground-truth is rapidly closing.

No more reliance on slow and subjective second-hand reports from different teams, when construction managers can check the real situation directly with such little effort.

This combination of Solibri and Imerso unlocks powerful BIM workflows for teams looking for Lean ways of running their construction projects, and we look forward to many years of close cooperation between these two companies to fully explore this potential.