Table of Contents
Site Monitoring and Quality Control
Designing a good BIM plan is essential, but so is monitoring its implementation and work quality in the execution phase. Site monitoring automation involves technology such as sensors, scanners, cameras, drones, and other devices to gather real-time data on a jobsite.

By collecting such data, project managers can identify any deviations or areas where work is progressing slower than anticipated and promptly address any delays or issues before they escalate. This helps to minimise disruptions, improve efficiency, reduce costs, and enhance overall project outcomes.

Solutions like Imerso combine easy 3D scanning with automatic site inspections, enabling:
automated As Built vs BIM analysis with 3D measurements

early alerts of work deviations compared to the specs

auto-updates of BIM to the As Built conditions
Examples of Site Monitoring and Quality Control software include:
As Built Documentation & 3D Scanning
The significance of As Built documentation in the construction process is undoubtful. It serves as a historical record of the project, provides proof of compliance, and helps improve future construction projects. Therefore, all parties in the construction project should prioritise the creation and maintenance of accurate and up-to-date As Built documentation.

Creating comprehensive and complete As Built documentation has traditionally been a time-consuming and arduous task. This is why modern tools offer a much more efficient process for documenting changes throughout the construction process. They help ensure that all parties involved in the project are aware of their responsibilities for creating and maintaining As Built documentation.

3D Scanning is a technique that delivers millimetre-accurate documentation of the As Built status in minutes, and is becoming increasingly available for routine onsite use. With 3D Scanning, you can run a surface flatness analysis at the press of a button. This enables companies to combine As Built tracking and quality control into a single workflow.

Some construction software, like Imerso enable companies to combine As Built tracking and quality control into a single workflow.



Examples of As Built Documentation & 3D Scanning software include:
BIM Authoring Tools
Design authoring tools come in a variety of forms, ranging from basic drawing programs to complex 3D modelling software. They may include features such as drag-and-drop functionality, parametric modelling, and simulation tools that allow users to test and refine their designs in a virtual environment.

One of the main benefits of design authoring tools is that they allow designers to create highly detailed and accurate models of their projects. This can help ensure that designs are feasible, practical, and safe before construction begins.

In addition, design authoring tools can facilitate collaboration among different stakeholders in a project, such as architects, engineers, and contractors, by allowing them to share and modify digital models in real-time.
Examples of BIM Authoring software include:
Parametric Modelling
Parametric modelling is a powerful technique to define a design's geometry and behaviour using mathematical equations and logical rules.
Using dedicated software, architects and designers can create a set of design parameters that define the size, shape, orientation, and function of various components of a building.
The real power of parametric modelling lies in its ability to link these design parameters together. This allows changes to one parameter to automatically propagate through the entire model, updating all affected components accordingly.

For example, if an architect changes the height of a building, the software can automatically adjust the length of the staircase and the placement of windows
to maintain their relative positions.
Examples of Parametric Modelling software include:
Object Libraries
Object libraries refer to collections of digital objects or components that can be used in the design and planning phases of a project. These libraries often include 3D models, materials, textures, and other elements that are pre-designed and pre-configured for easy use by architects, engineers, and other construction professionals.

Object libraries mean to save time and increase efficiency in the design process with a ready-made set of components that can be quickly incorporated into a project.

These libraries can also help ensure consistency and accuracy in a construction project. By using pre-designed objects and components, construction professionals can avoid errors that might occur when creating designs from scratch.
Examples of Object Libraries include:
Model Coordination & Clash Detection
This technology integrates and aligns different models, identifies and resolves clashes or conflicts, and ensures that the overall design of the project is accurate, efficient, and constructible.

Model coordination tools are commonly used in large-scale construction projects where multiple teams or contractors are involved, each working on different aspects of the project.
Such tools allow the models to be brought together and checked for consistency and potential clashes, such as two components occupying the same physical space, reducing the risk of conflicts and inconsistencies during construction.
Examples of Model Coordination & Clash Detection software include:
Visualisation Tools
Visualisation tech allows stakeholders to see the design from different angles, explore different options, and identify potential issues or conflicts before construction begins.

Augmented Reality (AR) adds digital elements to a live view of the real world on a camera. Virtual Reality (VR) uses a device to completely immerse the user in a virtual world experience that doesn't include elements of the real world around them.

VR and AR are both used in the early stages of construction projects, as a way to give clients and potential clients a full tour of the eventual building in a way that is more immersive and tangible than any drawing or presentation.
Examples of Visualisation software include:
Common Data Environments
Common Data Environment (CDE) is a centralised platform for managing and sharing digital information and documents in the construction industry. It's a collaborative workspace where all project stakeholders, including owners, architects, contractors, and subcontractors, can access, share, and update project-related information.

CDEs typically include tools for document management, version control, and workflow management, and can be accessed through web-based applications or mobile devices.

They also support collaboration and communication among project team members, which can help to improve project efficiency, reduce errors and rework, and enhance project outcomes.
Examples of CDE software include:
Check for more software in our 2023 Ultimate Guide to Digitalisation and Construction Tech >>.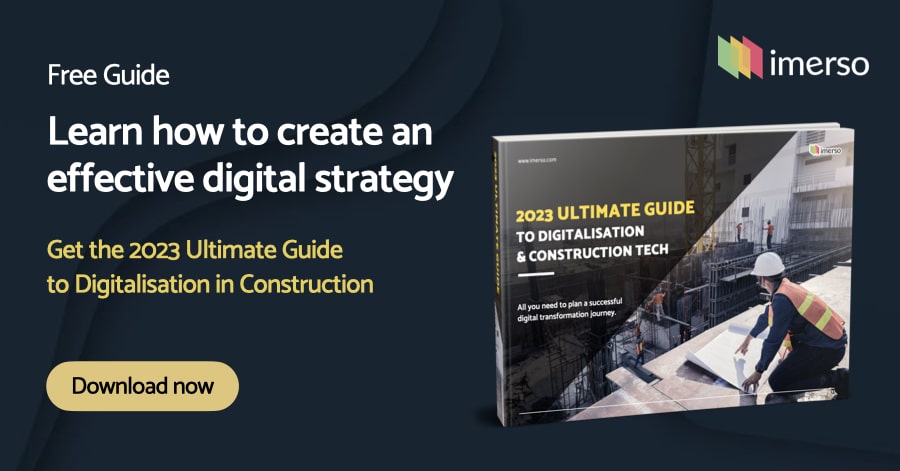 Conclusion
As technology continues to advance, don't forget to monitor the latest software developments and consider piloting new tools that can further optimise your construction processes. Embracing technology and leveraging construction software will undoubtedly play a crucial role in driving your project's success and shaping the future of construction.
About Imerso
Imerso is a software platform that combines BIM, Reality Capture, and AI technologies to automate construction site supervision and quality inspections with one simple workflow. We help construction companies cut project risks and delay costs with real-time monitoring of site status and work quality. Here are 7 Powerful Ways of Using Imerso to Supercharge Your Construction Projects.